As a farmer, you know the importance of staying connected to your farm and being alerted to any issues that may arise. At Agralarm™, we've been providing top-of-the-line poultry alarm systems for years, but we recognize that sometimes things can go wrong – power outages, system failures, and other unforeseeable events can all lead to missed alerts and lost time and resources. That's why we're thrilled to introduce our latest product, the AgraLink™ Backup System.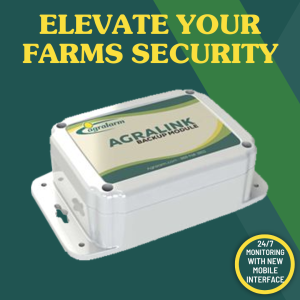 The AgraLink™ Backup System is a proprietary connection between your existing alarm system and you, the Grower. It provides a reliable way to back up your existing alarm to  ensures that you never miss an alert. Our automated backup process saves you time and effort, freeing you up to focus on what you do best – farming. AgraLink reduces the risk of missed alerts due to natural disasters, theft, or system failures beyond your control.
AgraLink™ Backup System is easy to set up and use – simply connect it to your existing alarm system, and you're ready to go. You'll be able to receive alerts via phone, text, or email, ensuring that you're always up to date on what's happening on your farm.
We know that time is of the essence when it comes to farming. That's why the AgraLink™ Backup System was designed; to provide reliable alarm connection along with ultra-fast signaling and backup!  AgraLink is in touch to keep you in touch!
AgraLink™ Backup System is a game-changer for farmers who rely on alarm systems to watch their birds. With AgraLink™ Backup System, you can rest easy knowing that you'll never miss an alarm. 
If you're interested in learning more about AgraLink™ Backup System, please visit our website at www.agralarm.com or contact us directly. We're always here to help you stay connected to your farm and keep your operations running smoothly.
Agralarm™ – Never Miss an Alert Again.